Microscopy Suite Equipment Fees
Fees/rates for use of equipment in the Microscopy Suite determined through analysis by Government Costing, University of Illinois. In effect starting July 1, 2018; subject to change.


Autosamdri 931 Critical Point Dryer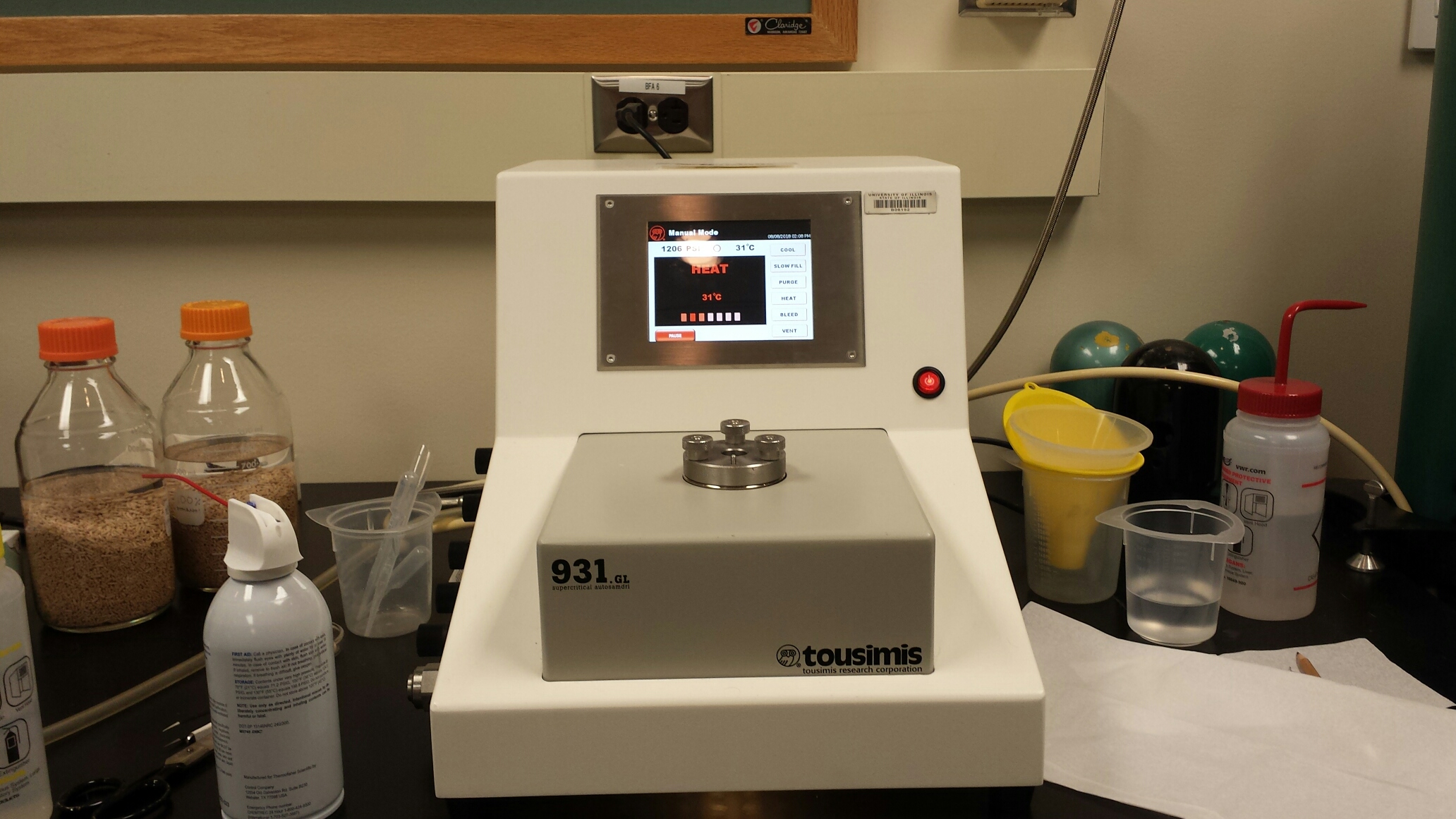 Features:
Bright LCD Touchscreen Control
Factory Default settings or create and save Custom Programs or "recipes" catering to your specific sample
Easy view placement of micro metering valves with vernier handles that include a Slow Fill for the most delicate sample
Complete internal 0.5 µm particle filtration to protect samples and valves
Fast adiabatic chamber cooling (Less than one minute for 1.25")
External mount post purge filter assembly, protects valve and allows easy maintenance access
Internal Condensing muffler, captures and eliminates purge exhaust noise
EZ top loading process chamber that is under light for easy viewing
Non mechanical purge stirring for complete purge with no moving parts to break
Available with 'Stasis" software (Patent Pending) that give complete range control with gels and more challenging samples while allowing samples to take advantage of lower density and viscosity parameters of both LCO2 and alcohol for complete LCO2 replacement and sample processing.
Modern Cabinet with clean room static-free design
All electronic components meet CE, UL and/or U.S. Military specifications
For additional information about this piece of equipment, see the Calendars, Contacts, and Fees pages.
| | |
| --- | --- |
| Primary Contacts | |
| Secondary Contacts | |
| Manufacturer | Tousimis |
| Equipment Model | 931 |
| Location | B650 R |
| Phone Numbers | (217) 265-5071 |
Notes:
* The fee for use is added to our purchase cost for the specific precious metal (gold, gold-palladium, or platinum) expended during coating. Gold and gold-palladium are charged at $0.30/nm, and platinum is charged at $0.45/nm. The added fee is easy to determine for the dual-metal evaporator, for which total thicknesses are reported in nm. For the sputter coaters, at 65 mTorr and 40 mA, gold coats at 3 nm/10 seconds, gold-palladium coats at 1 nm/10 seconds, and platinum coats at 1 nm/10 seconds. So a standard 70-second coat of gold will cost an additional (21 x 0.30) $6.30, a 70-second coat of gold-palladium will cost (7 x 0.30) $2.10, and a 70-second coat of platinum will cost (7 x 0.45) $3.15.
**The Xradia NanoCT system requires staff setup of the sample before X-ray collection.
***The actual hourly cost for this instrument is $91.31. The Beckman Institute subsidizes the TEM at a rate of $41.31 per hour for Internal university users. Enterprise Works users are charged the full $91.31 per hour.