Microscopy Suite Equipment Fees
Fees/rates for use of equipment in the Microscopy Suite determined through analysis by Government Costing, University of Illinois. In effect starting July 1, 2018; subject to change.


Multiphoton Fluorescence Confocal Microscope (FCS/FLIM)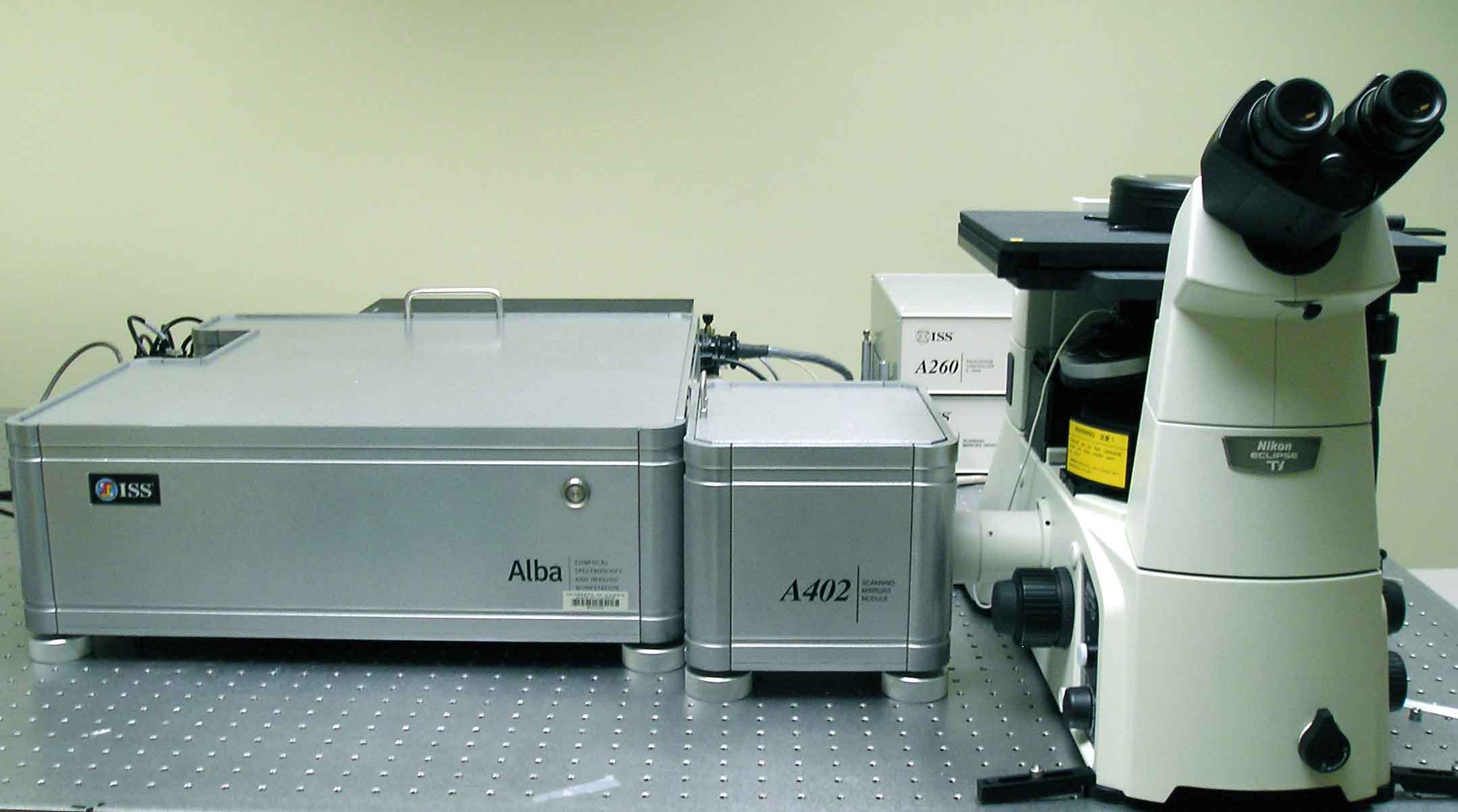 ISS Alba FCS instrument with single-photon (One 470 nm diode laser) and multiphoton (Ti:Sapphire laser) excitation, combined with a laser scanning module. It is capable of Fluorescence Correlation Spectroscopy (FCS), Fluorescence Lifetime Imaging Microscopy (FLIM) and Fluorescence Resonance Energy Transfer (FRET) imaging.
The Alba FCS instrument, manufactured by ISS (Champaign, IL), is based on a Nikon inverted confocal microscope. It has dual-channel detection and equipped with a laser scanning mirror module, and can be used to perform confocal imaging and fluorescence correlation spectroscopy (FCS). The microscope is equipped with a diode laser (470 nm) for single-photon excitation and a mode-locked Ti:Sapphire laser at 80 MHz repetition rate for multiphoton excitation. The system utilizes two single-photon avalanche photodiode detectors for the collection of light at single fluorescent molecule level. The VistaVision software package, from ISS, is used for the acquisition of FCS, raster imaging correlation spectroscopy (RICS) and 3D imaging, and the analysis of autocorrelation function. Applications of this system include molecular dynamics measurements, acquisition of kinetic rate constants, and visualization of antibody-antigen interactions, ligand-receptor interaction, nucleic acid hybridization and chemical reactions at the single-molecule level. This system was funded with a DURIP grant from the Army Research Office to Dr. Paul Braun and a generous grant from the Beckman Foundation.
Features
Dual-channel spectrometer
Scanning mirror module and z-stage; scanning area 100 µm x 100 µm x 50 µm
Single-photon counting module (SPCM); sensitivity extends from ~500 nm to 1100 nm with a peak of 70% quantum efficiency at 650 nm; dark count, 50 counts/sec
470-nm diode laser with power of 3 mW at the objective for single-photon excitation
Mode-locked Ti:Sapphire laser system (Tsunami & Millennia, Spectral Physics) for multiphoton excitation, 80 MHz pulse repetition rate and ~100 fs pulse width.
Nikon Eclipse Ti inverted microscope with 60x 1.2NA water objective and 60x 1.4NA oil objective
Vista software for autocorrelation, cross-correlation function, and imaging acquisition and analysis
Molecular dynamics and kinetic rate constant measurement; ligand-receptor interaction
Confocal fluorescence imaging, single-molecule fluorescence detection
For additional information about this piece of equipment, see the Calendars, Contacts, and Fees pages.
| | |
| --- | --- |
| Primary Contacts | |
| Secondary Contacts | |
| Manufacturer | ISS |
| Equipment Model | Alba FCS |
| Location | B604 B |
| Phone Numbers | (217) 333-4387, (217) 265-5071 |
Notes:
* The fee for use is added to our purchase cost for the specific precious metal (gold, gold-palladium, or platinum) expended during coating. Gold and gold-palladium are charged at $0.30/nm, and platinum is charged at $0.45/nm. The added fee is easy to determine for the dual-metal evaporator, for which total thicknesses are reported in nm. For the sputter coaters, at 65 mTorr and 40 mA, gold coats at 3 nm/10 seconds, gold-palladium coats at 1 nm/10 seconds, and platinum coats at 1 nm/10 seconds. So a standard 70-second coat of gold will cost an additional (21 x 0.30) $6.30, a 70-second coat of gold-palladium will cost (7 x 0.30) $2.10, and a 70-second coat of platinum will cost (7 x 0.45) $3.15.
**The Xradia NanoCT system requires staff setup of the sample before X-ray collection.
***The actual hourly cost for this instrument is $91.31. The Beckman Institute subsidizes the TEM at a rate of $41.31 per hour for Internal university users. Enterprise Works users are charged the full $91.31 per hour.