Software
Most packages listed below are installed on every Windows machine in the Visualization Laboratory, while others can only be installed on selected workstations due to cost and licensing restrictions. Software that is not installed on every computer is noted with an asterisk (*). For locating software packages that are not on every machine, consult the workstations page.
If the ITG does not have a particular software package that would assist in your research in the Visualization Laboratory, please contact us describing your need. Depending on usage, need, and cost, we may be able to purchase it.
Free and open-source software can frequently be installed on all machines upon request from lab users. Just let us know and we'd be happy to look into these applications and install if possible.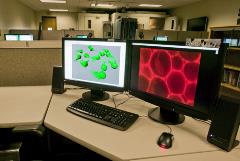 Available Software
Software on all Vis Lab Computers
3D Systems (Geomagic) (Control X, Wrap)
Adobe (After Affects, Bridge, Illustrator, Media Encoder, Photo Shop, Premiere)
AutoCAD (not accessible from Compute1 remote desktop)
Autodesk 3D Products (3D Studio Max, Inventor, Maya, Mudbox)
COMSOL Multiphysics with modules below:
| | |
| --- | --- |
| 2 | Multiphysics |
| 1 | AC/DC Module |
| 1 | CAD Import Module |
| 1 | CFD Module |
| 1 | Chemical Reaction Engineering Module |
| 1 | Heat Transfer Module |
| 1 | LiveLink for MATLAB |
| 1 | Material Library Module |
| 1 | Microfuilds Module |
| 1 | Nonlinear Structural Materials Module |
| 1 | Optimization Module |
| 1 | Particle Tracing Module |
| 1 | Plasma Module |
| 1 | RF Module |
| 1 | Semiconductor Module |
| 1 | Structural Mechanics Module |
FIJI (ImageJ)
Software only available on Specific systems
Keaton
Edison
Keaton

Tesla
Warhol

Warhol
Citrix App
Geomagic DesignX 3D Systems
Twombly
Edison
Lange

Warhol
Wegman

Warhol
Citrix Desktop
Citrix App

Lange