Image of the Week Gallery
A Species of Arachnoidiscus, a Centric Diatom.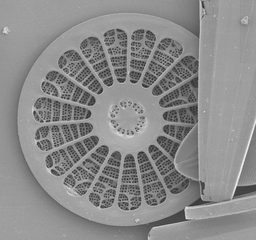 Media Details
Created 11/17/2009
The image is from a collection of images autonomously collected on a Philips XL-30 FEG at the Natural History Museum in London, England. This centric diatom is one of hundreds found after filtering an ocean water sample in the museum's collection. The name Arachnoidiscus comes from its resemblance to a spider's web. The images collected were used to build a Virtual Microscope specimen that is being used in an interactive exhibit in a new wing of the museum's Darwin Center.
Credits
Dave Williams , Natural History Museum, London sample
Chas Conway , ITG, Beckman Institute image
Back to all images