Details
Micro-Spectroscopy Workstation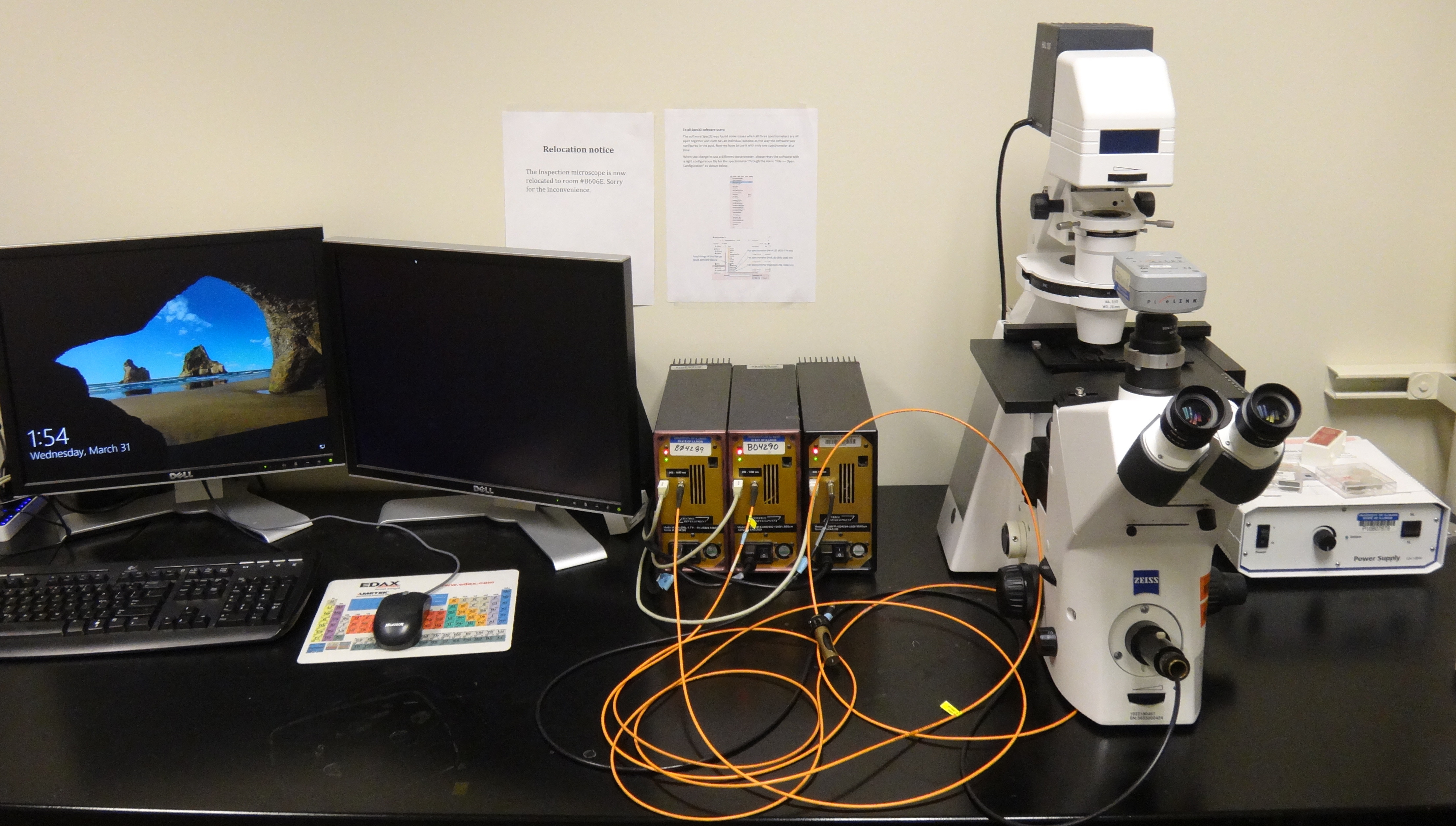 The Micro-Spectroscopy Workstation is capable of providing both spectroscopic measurements and microscopic imaging of samples from functional nanomaterials to thin films to proteins. Built upon a Zeiss Axio Observer D1 inverted microscope, the workstation is equipped with two incident-light halogen lamp illuminators, a 100-Watt Hg lamp, and a Zeiss AxioCam MRC color CCD camera. In addition, three optical spectrometers, coupled to the microscope via multi-mode fiber optics, are available for micro-spectroscopic characterization (transmission, absorption, reflection, and fluorescence) with emission spectra ranging from UV-Vis (300-900 nm) to NIR (900-1700 nm). A dark-field condenser attached to the microscope is especially useful for studying the optical properties of nanomaterials through surface plasmon spectroscopy.
Features
AxioCam MRC color CCD camera: 1.4 megapixels, with a pixel size of 6.45 x 6.45 µm
Silicon PDA spectrometer (300-900 nm); NIR 128-element InGaAs array spectrometer (900-1700 nm); CCD thermoelectrically cooled high-sensitivity spectrometer (420-780 nm)
Brightfield, phase contrast, darkfield, and fluorescence microscopy
Absorption, transmission, reflection spectroscopy from UV-Vis to NIR
For additional information about this piece of equipment, see the Calendars, Contacts, and Fees pages.
| | |
| --- | --- |
| Primary Contacts | |
| Secondary Contacts | |
| Manufacturer | Carl Zeiss, Inc. |
| Equipment Model | Axio Observer D1 Inverted Microscope |
| Location | B606 I |
| Phone Numbers | (217) 333-4387, (217) 265-5071, (217) 265-0875 |